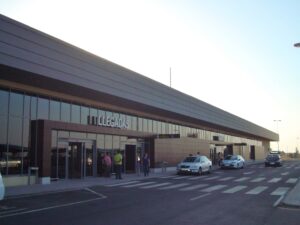 By plane, through the Badajoz airport, the only one in the region, located 14 kilometers from the capital of Badajoz. From there, regular flights are made to Madrid and Barcelona, ​​as well as to other cities at specific times of the year. It has a commercial area, car rental offices, free 24-hour public parking and a taxi rank.
If you prefer, the Badajoz train station It offers you connections with the provinces of Cáceres, Toledo and Ciudad Real, as well as with other towns in the province of Badajoz. It also connects with Portugal, the Community of Madrid and the cities of Castellón, Albacete, Barcelona, ​​Valencia and Tarragona.
By road you have more options. And it is that Extremadura has an extensive and dense network of highly efficient roads. The territory is structured through two major communication channels: the Southwest Highway and the Ruta de la Plata highway. The Southwest highway (the old highway of Extremadura) runs through the region from east to west and connects Madrid and Lisbon, passing through Navalmoral de la Mata, Trujillo, Miajadas and Mérida until reaching Badajoz.