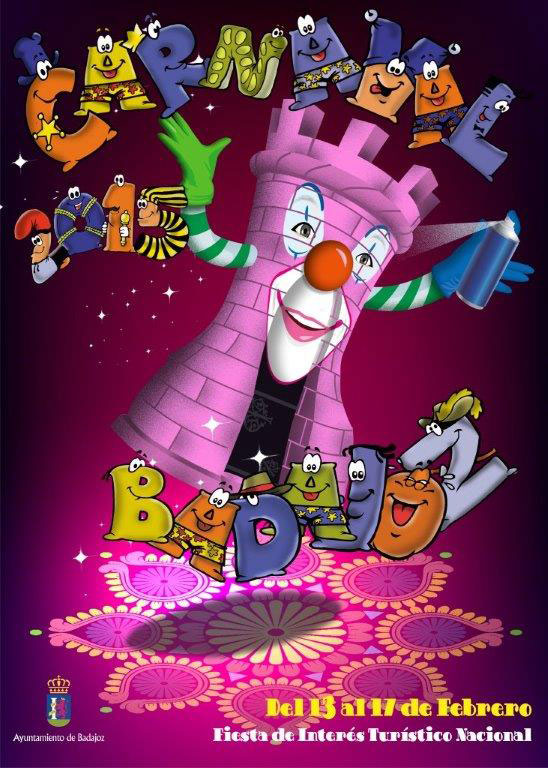 Carnival soul
We are underway for another year. The city prepares to receive the Carnival. One of our biggest parties. One of the Badajoz festivals that brings together the most participation and that is most deeply rooted in the soul and heart of the people of Badajoz.
Children, fathers and mothers, families, students, friends are getting ready, the costumes and troupes are getting ready to give color and music and joy and soul to a party that belongs to all of us and excites and gathers us all, regardless of if we dress up or not, if we participate in a contest or not, if we go out or not to have fun. Because that's what Carnival has: freedom. Freedom to do whatever you want, including dressing up or, if so, designing your costume. Badajoz, in Carnival, is freedom, it is fun, it is surprise, it is spontaneity, it is dance and music and lyrics, it is drums, emotions and a year of waiting to go on stage, to be part of the parade, to fix the artifact or to occupy the streets with the effort and enthusiasm of many, of all. The city is preparing to open its streets to a new Carnival, the same as the previous year, but also different, new, unexpected, to be discovered. Badajoz becomes synonymous with participation, passion, debauchery, synonymous with freedom, a freedom that was previously a luxury, a longing and today is part of our lives.
Groups, various artifacts, comparsas and murgas take Badajoz, but also the anonymous citizens, each and every one of us who year after year make these days with their nights and more than ever, our the streets and squares of the city, enjoying them, living them and feeling them in a sea of ​​costumes, masks, music and drums that resound in the nights of Badajoz.
Throughout these decades, the people of Badajoz, all together, have managed to make our Carnival a carnival reference in Spain and on either side of the Raya, declared of National Tourist Interest and characterized by massive popular participation, which turns the streets of the city at everyone's party, a party that people like or dislike, but that leaves no one indifferent, and that is something we should all be proud of. It is our own brand that identifies Badajoz, because both to enjoy it and to criticize it, review it, qualify it, improve it or renew it, we put all our senses at your disposal. But we have also managed to make it a mark of identity for everyone who comes to the city, who joins Badajoz and its streets to have a good time, to participate leaving behind the sense of ridicule and recovering that of fun for fun, without further ado .
It is the carnival magic that makes it possible for a while to be others, to be a superhero, a dancer, an Eskimo, to recover our child and for children to grow up. A magic that must endure, that we cannot lose, and for which it is worth continuing to work. Happy Carnival everyone.
Francisco J. Fragoso Martínez
Mayor of Badajoz
More information on Badajoz City Council website.